FACT
SUS Environment signed a cooperation agreement with China Investment Corporation, Bpifrance, and Quadran in the joint testimony of the top leaders of China and France on March 25, 2019, at Élysée Palace, Paris.
The agreement is a practical cooperation on China's "One Belt and One Road" initiative between France and China, and will focus on the development of Third Party Market. The other three parties in the quadripartite agreement jointly choose SUS Environment as the provider of technology and equipment for future cooperation projects, which not only shows the full trust of the two governments in SUS Environment, but also means that the developed countries highly recognize its technology and services.
The quadripartite agreement establishes a platform for cooperation, which will be committed to the development and operation of waste-to-energy and other new energy projects in the third market out of China and France in particular. So far, the first investment projects of nearly 2 billion Euros has been locked up.
"This signing is a milestone in the internationalization of SUS Environment," said Dr. Long Jisheng, Chairman and CEO of SUS Environment, "but the greater significance is that it is a platform open to domestic peers, and we sincerely invite you to join hands and do something for the protection of the environment on the international stage."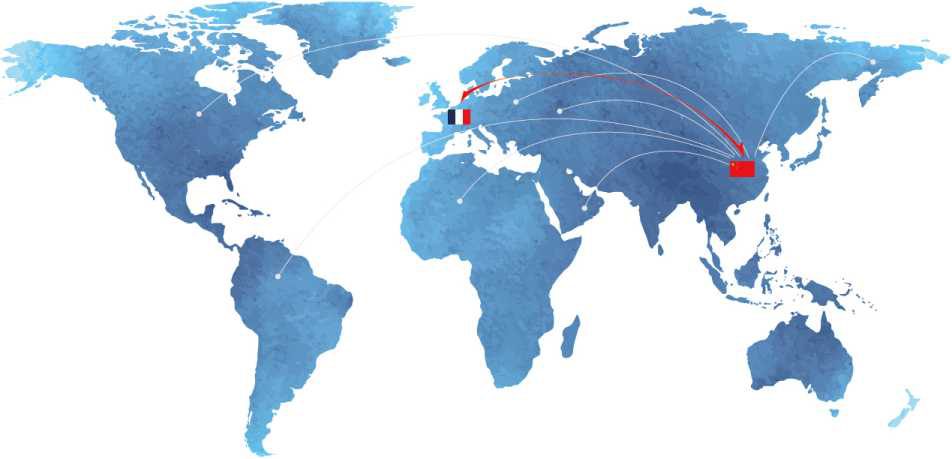 Company Profile
Shanghai SUS Environmental Co., Ltd., a subsidiary of CITIC PE, is a fund management company ranking the third largest in Asia and biggest in China. SUS Environment is dedicated to municipal solid waste (MSW) treatment, eco-industry park development, WtE EPC works, WtE operation and management, as well as agricultural and forestry waste treatment. Its business covers investment, construction, operation and management of the whole industry chain. By the end of March 2020, SUS invested around 50 WtE PPP projects, with the total capacity of more than 80,000 t/d, ranking top five in China.
CIC, founded in Beijing on September 29, 2007, is approved to set up by China's state council. It is a wholly state-owned company engaged in the foreign exchange funds investment management business. The registered capital of 200 billion dollars is from China's Ministry of Finance by issuing special bonds as a way to raise the 1.55 Trillion YUAN. CIC is one of the biggest sovereign wealth funds in the world.
Bpifrance, established in 2012, 50% directly owned by the State and 50% owned by the National Trust Bureau. The fund comes from the national debt issued by the bank. It has the mission of helping French enterprises to accelerate their development in the international market. As France's leading public investment bank, its operations are reported to the French parliament and supervised by the European central bank.
Quadran, founded in 2013, which is one of the largest energy companies in France with its business areas of wind power, photovoltaic, small hydropower and biogas power generation. As a pioneer of France's energy transformation, Quadran is committed to developing and investing in new energy projects in France and its overseas territories, taking full advantage of its capital and project development experience. Up to now, Quadran has completed the total installed capacity of 819MW, and is widely distributed in southeast Asia, South America, west Africa and other places.
Review
Dr. Jisheng long, Chairman and CEO of SUS Environment, arrived at the Élysée Palace in Paris, taking a photo with Louis Blanchard, CEO of Lucia Holding Group, a shareholder of Quadran
Signing the Agreement

Dr. Jisheng Long, Guangshao Tu, Vice Chairman and General Manager of CIC at that time, Nicolas Dufourcq, CEO of Bpifrance and Louis Blanchard are signing The Quadripartite Agreement.
Exchanging the Agreement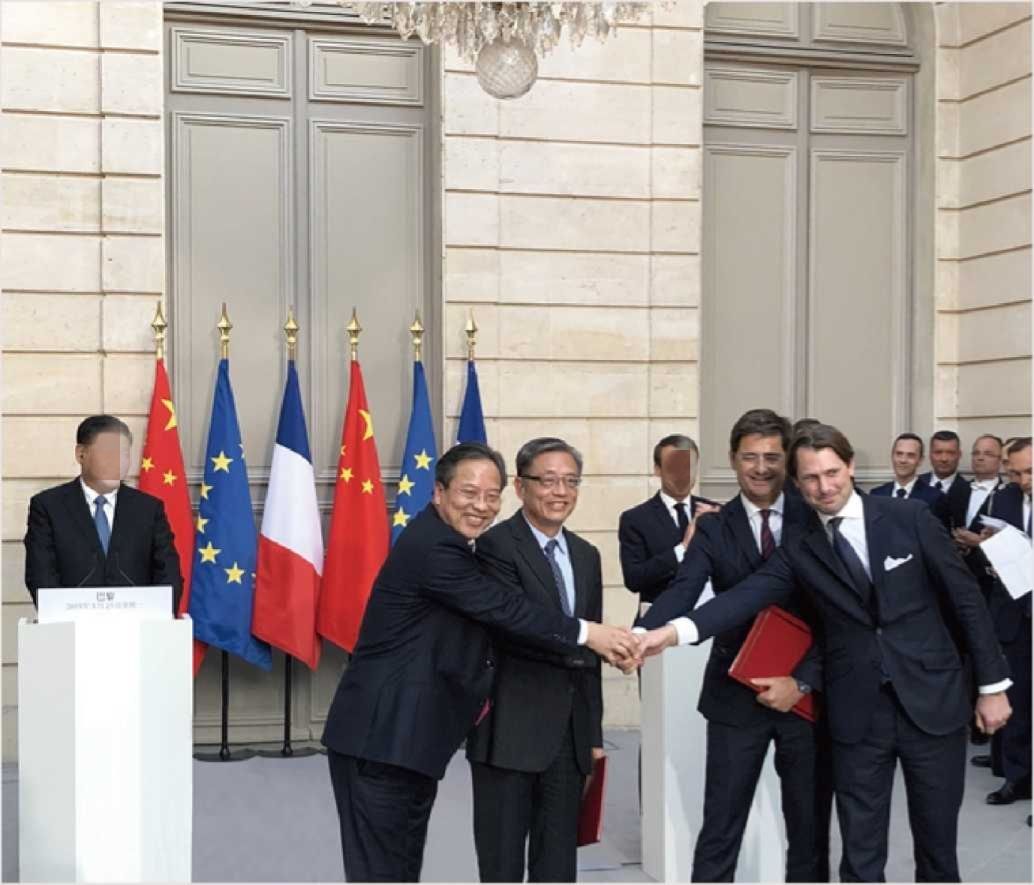 Media Reports
Study Times SUS Environment wins applause at Élysée palace " 8th page, 2019/04/08
Founded in September 1999 and sponsored by the party school of the CPC central committee, Study Times orients to the whole country and serving the whole party, it mainly targets party and government cadres at all levels and intellectuals. It is the only party-wide newspaper that is exclusively devoted to learning and published at home and abroad.
China Reform Daily Chinese and French enterprises sign a contract to jointly develop the third market", 1st page, 2019/03/27
China Reform Daily was founded in January 1994, which is directed by the National Development and Reform Commission, and inscribed by Xiaoping Deng which was the Chief architect of China's reform and opening up. It is the only central level daily in China that mainly reports on reform and development. It is the newspaper of the price bulletin of the People's Republic of China, the newspaper designated by China Securities Regulatory Commission to disclose information of listed companies, and the exclusive national newspaper designated for information disclosure of credit publicity.
China Economic Herald, "SUS Environment signs the quadripartite agreement on renewable energy cooperation with Chinese and French companies", 6th page, 2019/03/29
China Economic Herald is a comprehensive economic newspaper supervised by the National Development and Reform Commission.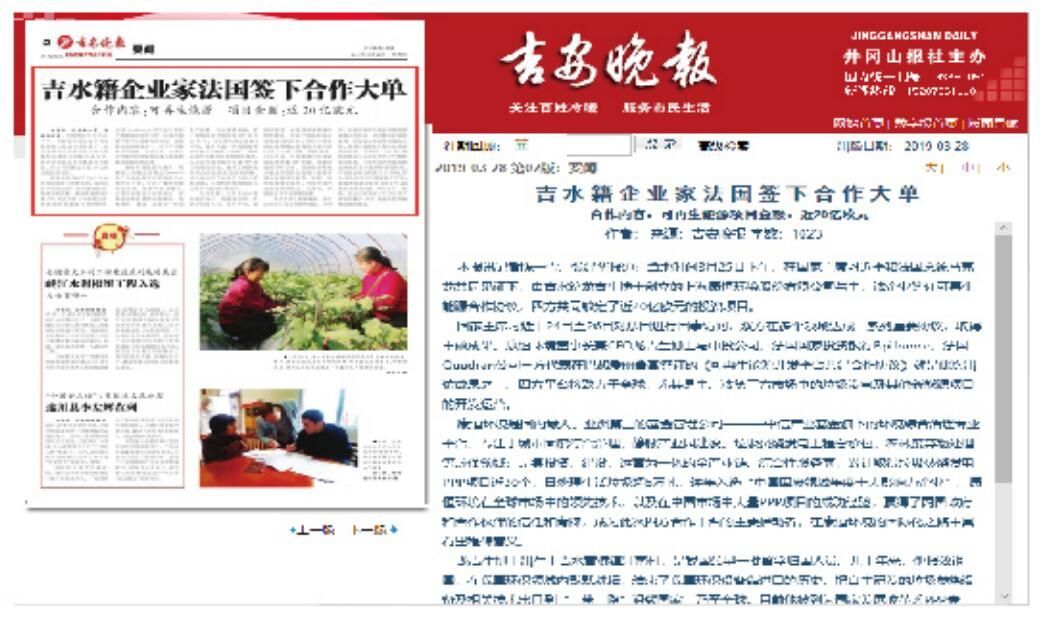 Ji 'an Evening News, " Jishui entrepreneur signs a large cooperation agreement in France ", 2nd page, 2019/03/28
Ji 'an Evening News is sponsored by the information office of Ji'an government and Jinggangshan newspaper and distributed nationwide.
"60 Minutes Tonight" on Dragon TV, A New Cooperation Space for China-France behind the" big deal", 2019/3/27 22:30-2330
"60 Minutes Tonight" is a large news commentary program produced by Dragon TV, which focuses on global hot spots, in-depth analysis and multiple comments. It is a tough, intelligent and clear-cut evening news program from an international perspective.
Economic Voice of China National Radio, "Chinese and French enterprises sign a contract to jointly develop the third market", 2019/3/27 07:45-09:00
Economic Voice of China National Radio (CNR) is the most influential financial and economic radio in China. It is also the only professional financial and economic media covering more than 300 million mainly urban radio listeners in China, ranks the top 1 among the economic radio.
SUS Environment Official WeChat, "SUS Environment signs the quadripartite agreement with Chinese and French enterprises ", March 26, 2019
The post received more than 20,000 views on WeChat.